Exhibition Display Stand Maker
Established in 2008, XPOMAX is one of the Malaysia's fastest growing suppliers and contractors of quality products and services in the field of exhibition display booth. Carrying a vision of excellent and professional ideas, we provide an extensive range of innovative products and creative services to help you become the market leader in your area of expertise.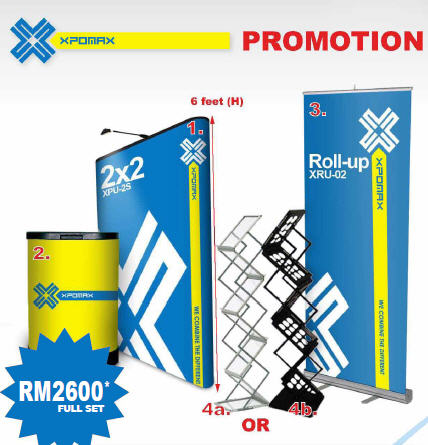 Promotion price : RM 2,600 only !
- Spring Pop-up , (XPU-2S) c/w printing , 2 panel straight x 1 unit
- Pop-up hard case c/w prining x 1 unit
- China Roll up, (XRU-02) c/w printing x 1 unit
- Brochure Stand x 1 unit
a. XBS-03 c/w carry bag , or,
b. XBS-06 c/w carry bag
For more information about exhibition booth promotion , please visit http://www.xpomax.com/promotion.html